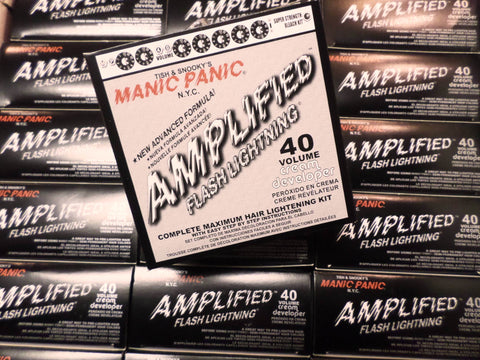 Manic Panic Bleach Kit
Manic Panic Amplified Bleach Kit 40 volume. Great for pre-lightening your hair prior to dying for the most intense color.
Hair bleach should not be used for dyeing eyebrows and eyelashes. If eye contact does occur, rinse immediately with warm water and contact a physician.
Manic Panic recommends pre-lightening (bleaching) your hair to a level 9, or higher, for a true color tone. Darker/warmer shades work best on hair that can only be lifted to a darker blonde shade.
An even level 10 platinum blonde is required for all pastel shades (like Manic Panic's  Creamtones®, or any shades you may have "pastel-ized" with Manic Panic Pastel-izer®) as well as all shades of grey (Alien Grey, Amethyst Ashes, and Blue Steel).
One Bleaching Kit is enough product for short hair of average thickness up to 4 inches in length. Multiple kits will be required for longer hair - about one kit for every 4-5 inches of hair length.
Kit comes complete with:
1 dust free bleach powder (located inside plastic mixing tub)
1 40-volume cream developer
1 plastic mixing tub
1 tint brush
1 plastic cap (located inside plastic mixing tub)
1 set of plastic gloves (located inside plastic mixing tub)
and instructions for use.
---
We Also Recommend